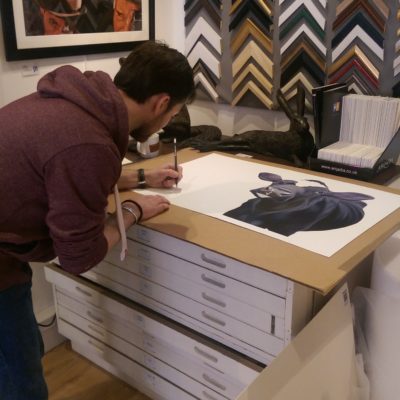 Since graduating in Fine Art from the University of Central England in 2003, Steve Shaw has quickly established a reputation for his playful and inspired wildlife and still life oils. In the process of creating a painting Steve employs two different techniques. He either uses brushes to generate a flat painted surface with a keen attention to detail or utilizes painting knives building up a textured surface with expressive strokes. Steve takes his inspiration from a wide range of wildlife and still life subjects.
When painting animals his intention is to capture the spirit and unique character traits of each individual. Working from photographs, he immortalises a moment from their lives on canvas.
"I perceive my artwork as a celebration of nature therefore I use monochrome backgrounds so the viewer's attention is not distracted away from the animal depicted".
By using bright positive tones Steve retains a playful and humorous edge to his artwork, which reflects his own personality.
Ytene Gallery are pleased to offer two limited edition prints by Steve, please contact the gallery to discuss framing options. 
Available work by Steve Shaw
Steve Shaw
It'll be all White on the Night
Limited edition on paper
80cm x 50cm
£195
Steve Shaw
Maybe Its Because I'm a Wonderer
Limited edition on paper
84cm x 84cm Framed
£345