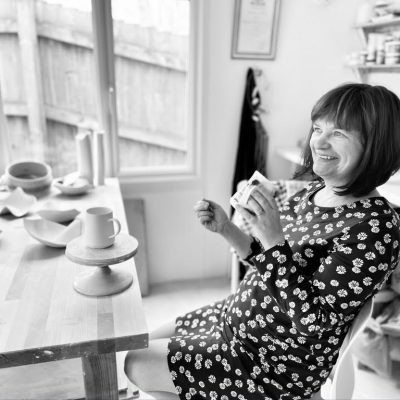 Helen studied Art and Design at Loughborough College of Art, specialising in ceramics and gaining a B.A. Honours. Her studies continued by attaining a place at the Royal College of Art, graduating in 1995 with a Degree of Master of Arts.
Helen lives and works in Devon and is a selected member of the Devon Guild of Craftsmen and widely exhibits throughout the UK.
Helen's Oxide Decal Collection is inspired by combing the shoreline for lost treasures and sea-worn pottery. The collection imbues a sense of Chinoiserie or patterned ceramic tiles worn under foot, conjuring memories of a forgotten tea service from childhood or a beloved Victorian artefact. The mosaic-like appearance evokes a new story each time the pieces are used, intriguing the observer and allowing them to create their own story.
Each piece is made from porcelain and finished with clear and coloured food-safe glazes, creating pieces which can be used and enjoyed everyday. The forms are hand-thrown on a potters wheel and the surfaces treated with layered oxides, decals, slips and imprints, making each piece unique.
Available work by Helen Harrison