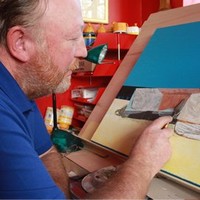 Clive was born in Darjeeling, India in 1952 and has lived for the past 30 years in Lyndhurst at the heart of the New Forest.
Clive became a professional artist in August 2010, he is drawn towards subjects centered around boats, marine life and landscapes with the majority of his works created on canvas. Clive likes to use acrylics for the powerful impact of the vibrant colours its possible to make with them. There is always something new to find in the detail.
His work is exhibited and sold through galleries in Hampshire, Devon and Cornwall.
In 2014 Clive's work was accepted by The Royal Society of Marine Artists to exhibit at The Mall Galleries, London.
Available work by Clive Halnan